Wearable Air Purifier Necklace JO-2002
Why Air Purifier required:
There is an increasing concern about air pollution levels both outdoors and indoors. According to the United States Environmental Protection Agency (EPA), indoor air can be five times as polluted as outdoor air. Since indoor air is not circulated as much as outside air, many airborne pollutants continue to thrive inside.
Air purifiers can refresh stale air, reducing the chances of health issues caused by indoor pollutants, which can trigger respiratory infections, neurological problems, or aggravate symptoms in asthma sufferers. Quality air purifiers eliminate several types of indoor air pollutants, keeping us healthy.
Some important work of Air Purifier is given below:
Relieves Symptoms of Asthma.
Eliminates Harmful Chemicals from Indoor Environments.
Neutralizes Unpleasant Odors.
Reduces the Chances of Airborne Diseases.
Removes Harmful Radon.
Eliminates Hazardous Asbestos Particles.
Features:
6.5 million pcs/cm³ negative ion concentration
Clean air everywhere: can be worn on neck indoors or outdoors; perched on desk at work or by bedside.
Long battery life: up to 20 hours
Breathing indication light • Hassle-free maintenance, no filter replacement
Ultra-quiet operation
Ultra-low ozone emission
Technical Specification:
Product name

Mini Portable Negative Ion Wearable Necklace
Air Purifier

Input voltage

5V DC (USB)

Power consumption

≤ 0.5 w

Negative ion concentration

30,600,000 pcs/cm3

Product dimensions

59.5*32*22mm

Net weight

About 30 g

Color

White, Black, Pink

Ambient temperature
for operation

﹣10℃ to 40℃
(14℉ to 104℉)

Application

Wear on Neck, Car, Desktop, Bedside, Baby Stroller

Certifications

CE, RoHS, Fcc
Product Details:


Clean Air Everywhere
IONKINI Wearable Air Purifier Necklace JO-2002


Upgraded Powerful Performance
Effectively kill bacteria, germs, and remove particles allergens like PM2.5, smoke, pollen.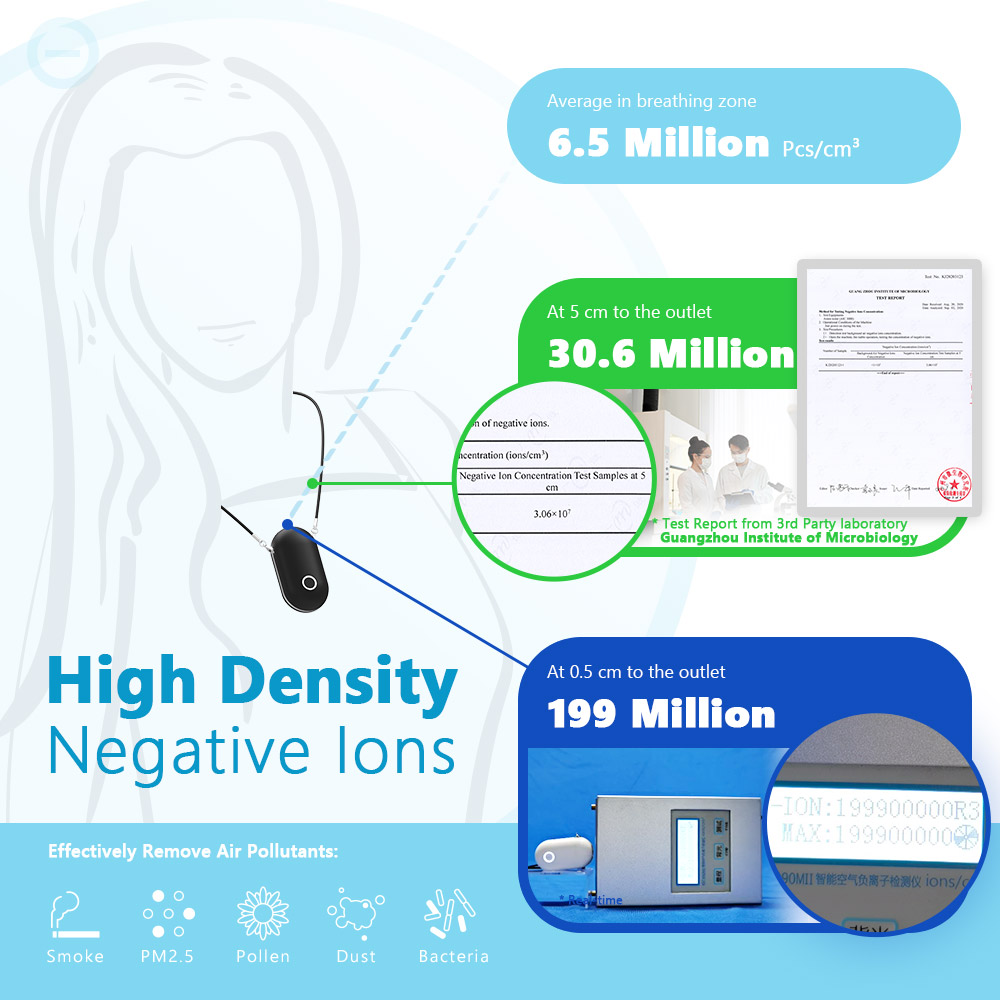 Indoors
At Home / Office / Bedroom / Shopping Mall / Hotel / School / Gym...




Travel
In Car / Bus / Underground / Elevator/ Outdoors...




Elegant & Delicate
Cobble Shape, Metallic Middle Bezel, Breathing Indication Light.
Small, Compact, Light & Exquisite.
Customizable
Colors, LOGO, Packaging, Design or Features